As the others depart Aunt Marla's place,
Feng
excuses himself and heads out to find something to fill his prodigious belly. Heading south toward the docks, he finds just the place he is looking for:
The Brown Kettle
, famous for it's "big ol' bowl of brown" > a thick, chunky soup with "mystery meat" and vegetables, often fish and potatoes, but still very, very good; served with a chunk of black bread as big as a platter to sop up all of the soupy goodness. Served with a thick stout beer, it is just the ticket for a hungry dwarf. And at only 5 silver, it's a daily deal, and Feng visits it weekly.
While Feng eats, he keeps his eyes down and his ears open. He leans on the bar instead of on a stool and every time he shifts his weight the bar creaks at the tender, a middle-aged man named Albie, glances in Feng's direction. Feng grunts a greeting and goes back to slurping his soup. There are other dwarves in the tavern, along with a handful of unsavory looking sorts: dock hands, off-duty guards, and the regulars. The place is loud, but Feng knows it will get louder as the day wears on.
After two bowls of brown, three stouts, and what amounts to an entire loaf of bread, Feng belches loudly and then backfires just as loudly. Tossing a gold piece on the counter, he then heads toward the back of the tavern. He knocks twice, pauses, and knocks three times and pauses...and then door opens and he walks inside.
The shrine of
Hanseath
, the dwarven god of war, carousing, and alcohol, is open to all who love a good fight and a good stiff drink...or three. Inside the main room, there is a ramp leading down into a damp cellar with several barrels of beer are stored and there is a small altar and a booth for private conversations. Feng drops a few coins in the offering box before walking deeper into the shrine.
"Feng the Mighty!"
comes a familiar voice and Feng turns to see
Brother Durm
walking toward him.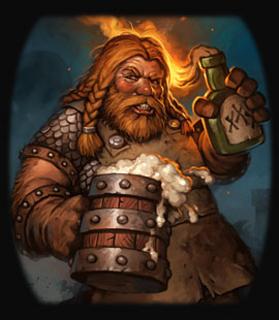 The dwarven brewmaster cleric is an old friend and as usual, is "two-fisting" the brew.
"Want a snort?"
Durm asks, holding for a steaming bottle of what he calls "holy water."
"What can I do ya fer today, brother?"