First Stop: The Library
Aunt Marla sighs. "I will make arrangements for Oliver. You need to head to the Library and quickly. Ask for Samantha > she may be able to help you. Or at least point you in the right direction."
Dorian and Echo say they will stay with Septinius and help Aunt Marla with Oliver. That leaves the five of you to carry on the mission. The sun...what little is shining...is beginning to descend to the West; you figure it is approaching five o'clock.
Grimmell takes a deep breath and says, "OK, off to the library we shall go."
Vindolen Rukford was examining a bit of frayed tunic that he would have sworn still emitted faint wisps of smoke from Darla's spell. He sniffed it to make sure. "I still say it might be a good idea to find out where Darla and Green are. 'Twould be all kinds of pleasing to me to know where Rustin was as well. Otherwise, I have an inkling more surprise might lie in wait for us," he says in his slow drawl...thinking about routes in his head. He smiles and gives Spades a look. "I think I know a fairly speedy way to the library, and one that will help us avoid ambush spots as well."
Spades nods, and starts walking towards the door, and then stops to turn back to the others. He pulls a crinkled note from his vest...the note he took from the dragonborn. Fortunately, the note is written in Common. The tabaxi clears his throat and reads,
Brass, old friend, I am in deep shit and need your help, else I fear I will soon be swimming with the fishes! I need coin...a lot of it...fast! My mother has some old junk from my father's sailing days hidden in the house; might fetch enough coin to buy me some time. Problem is, she's called in some of her..."pets" to help her out. One of 'em is Spades...you know, the Catman? And that bastard, Echo...and a few others. My guess is she will ask them for help...may even give them some items to sell for her. Find them...detain them > you know best how to do that > and take whatever she gives them. I'll be bunking at Bella's > I owe you, big time, buddy! ~ Rusty
Aunt Marla just weeps quietly as Spades reads the letter.
Holen speaks up, "We must make haste to the library and have the scholar there decrypt and decipher. In the stead, I believe it wise to have deceptions in place. What I mean is that we each need to be seen toting a tome as to confuse the watchful eyes upon us. That way, the real tome is a degree safer."
She looks around at everyone for a few seconds, to the let her idea sink in, and then continues.
"Like a confusing display of 'I'll take the time!' 'No, I have it,' 'I told you it's my turn to carry it,' with everyone left making an excuse. That way, it is protected with our attackers having to figure out who has the real one."
Spades
eyes lighten up.
"That's a great idea! Let's do this!"
"We may even split up but we meet at the library of tomes, regardless with post haste. And see what or where the librarian scholar leads us."
Aunt Marla suddenly says, "I have some other old books! You can take those with you. In fact, I believe I have a book or too to return to the library. Ack! They are quite overdue, I'm afraid. Here."
And she begins to pass out books to all those who are going.
"Now...do be careful."
And with that...the group of five companions, where there once was nine, leaves Aunt Marla's home and follows Vin's directions to the Library.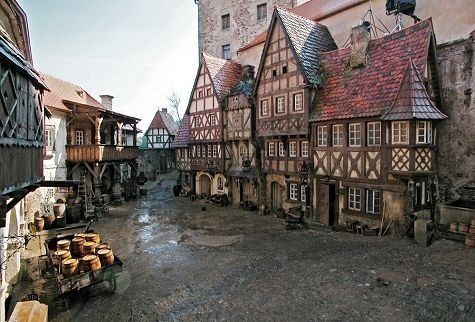 Your group travels down one street and then another, past various business, crowded homesteads, and all manner of trades and shops.
https://i.postimg.cc/Y2NFSbQL/city-street-2.jpg
Vin's masterful route keeps you somewhat out in the open and yet jets you down side streets, past dark alleys, while mingling in and out of the good folk of Yhuann. As darkness descends fully upon the port city, and the lamplighter's guild hurries along lighting the myriad of lamps along the streets, you find yourselves standing at the door of the town library.
A sharp rap on the door, followed by rustling feet, and you are looking upon a prim, auburn-haired woman in her mid to late thirties. She holds onto the door and you can tell by the look on her face...to see five such as you standing on the stoop...she is somewhat nervous, maybe even a little frightened.
https://i.postimg.cc/VLYC0nFG/samantha.jpg
"Good eve. The...um...library is about to close. How may I help you?"